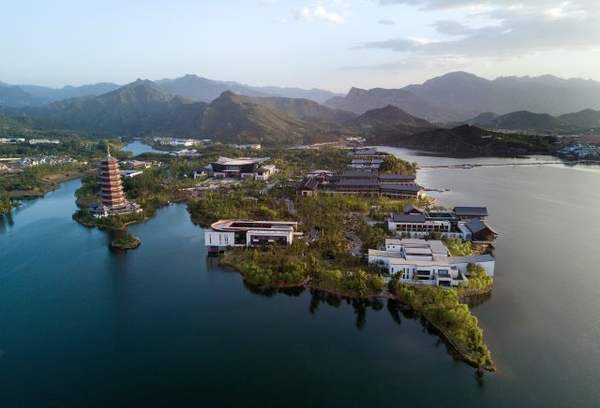 Yanqi Lake is located on the edge of the Great Wall at the foot of Yanshan Mountain, and flocks of wild geese come to live in the lake every spring and autumn, hence the name. It was officially opened to the public in 1987 to receive tourists. In 2001, Yanqi Lake was rated as an AAAA-level tourist scenic spot; the 2014 APEC leaders' informal meeting was held here. In May 2017, the "the Belt and Road Initiative" International Cooperation Summit Forum was held here to discuss cooperation plans, jointly build cooperation platforms, and share cooperation results. Yanqi Lake once again became the focus of world attention.
Yanqi Lake is composed of two lake areas in the east and west. The water surface is wide. The scenic area of ​​Yanqi Lake is 21 square kilometers, the lake surface is 230 hectares, and the slow traveling system around the lake is 14 kilometers. Yanqi Lake has a flat terrain and wide water area, which is very suitable for various water and land entertainment projects. It is a well-known tourist scenic spot and water park in the suburbs of Beijing. There are dragon boats, painted boats, speed boats, self-driving speed boats, battery boats, big yellow duck boats and other water sightseeing boats in Yanqi Lake. In addition, there are more than a dozen terrestrial entertainment projects such as torrents, water landing, entertainment sports cars, ferris ring cars, pirate ships, bumper cars, cartoon trains, and carousel, etc., to meet the entertainment needs of different groups. Tourists can take a boat tour around the lake, around the island, or take a car tour, a cycling tour or a walking tour on the road around the lake.
After 30 years of development and construction, Yanqi Lake Scenic Area has made full use of its unique natural tourism resources to build an ordinary medium-sized reservoir into a city-level scenic spot and a national AAAA-level tourist attraction, making an ordinary reservoir management institution develop into a tourist resort integrating sightseeing, leisure and vacation together, and it has contributed to the establishment of a good tourism image in Huairou, Beijing.