Located in the center of southwestern China, the Chengdu City is a very prosperous regional hub with all of the modern, broad-ranging nighttime activities so that one would expect of a successful metropolis of the size of Chengdu. In fact, the city's nightlife is on par with that many of China's larger coastal cities. Chengdu has traditionally been a city of active, culturally involved people who are fond of music, art and theatre (mainly Sichuan Opera). Sichuaners also have a long tradition of dining out, visiting tea houses and shopping at large, open-air markets, though today, much of this is being replaced by Western-inspired shopping malls, upmarket restaurants and the ubiquitous bars & night clubs where you can dance 'til you drop' or sing along to Japanese inspired karaoke.
In the following you can find out more about what Chengdu has to offer in the way of after-hours activities, with something to suit every taste, from cultural to recreational activities to nighttime forays to bars & night clubs, as well as visits to tea houses & coffee shops. Welcome to Chengdu after dark!
Popular After-hours Activities
Cultural activities
Chengdu has its fair share of museums, historical sites and ancient temples – and of course, Chengdu has a Zoo where you can also see real pandas – but what really distinguishes the city, culturally, is its opera, which is part of the Sichuan Opera tradition, one of China's oldest regional operas. Chinese opera is unlike Western opera in a host of ways, but mainly in the fact that it rarely involves start-to-finish, plotline dialogue and/or monologue (except for Beijing Opera), but instead consists of several component parts that involve circus-like stunts (acrobactis, fire spitting, clowning, etc.) as well as dramatic, story-telling parts which, like opera everywhere, are sung.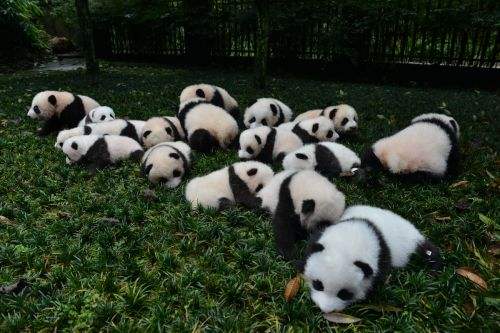 However, Sichuan Opera is especially characterized by its circus-like elements, where the actors are either consummate acrobats, consummate magicians (illusionists), consummate fire spitters or consummate clowns, besides another category of consummate performers in which the city of Chengdu absolutely excels: the dazzling art of face-changing, which involves the uses of multiple (layered) masks that can be changed at lightning speed.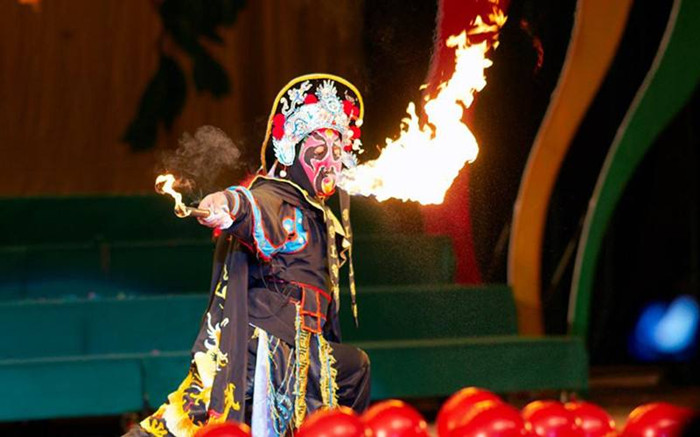 The current Chinese master of the art of face-changing (i.e., mask changing) is Chengdu's He Hongqing, who has attained such fame that there are YouTube videos displaying his art, and he – or rather, He :) – was recently interviewed on the BBC, where he explained a bit about his "magic", albeit, without revealing precisely how he manages to change his multiple faces almost at the blink of an eye (a photographer once tried to capture the secret behind this by turning up the shutter speed on his camera to the maximum, but had to admit that He's face changes happened so quickly that even his camera was unable to follow the action). All of the circus-like components of Chengdu's opera are accompanied by appropriately dramatic music, often involving a number of wind- and percussion instruments, punctuated by shrill shrieks.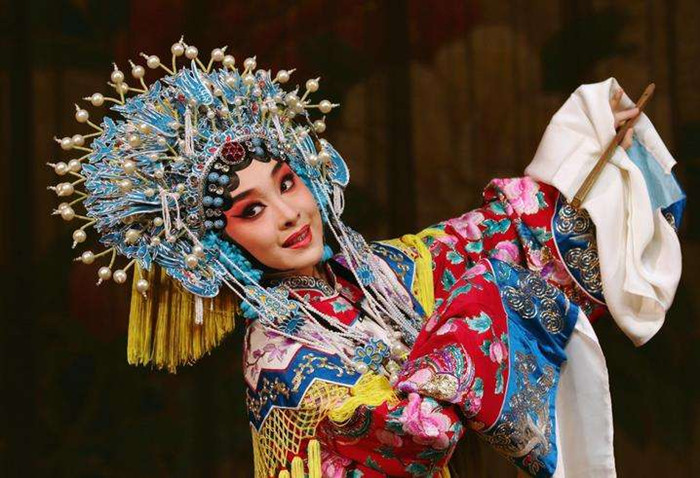 But Chengdu's opera is more than its circus-like elements, there are also elements that follow the story-telling tradition à la Beijing Opera, involving dramatic acting, often with interludes performed by a solo artist, combined with very specific symbolic movements – sometimes involving specific props – that have a long history of meaning in Chinese culture. Many tea houses in and around Chengdu stage shorter opera performances of this nature, which can almost be compared to puppet theatre, but where the puppets are real, live humans, and where the "puppeteer" is the script.
If you catch one of these opera performances in a tea house in Chengdu – or, indeed, at any of the other venues in Chengdu where opera is performed – rest assured that you will be provided an English-language pamphlet explaining the plot and the characters involved, in much the same way that you would be provided a similar pamphlet explaining the Italian-language performance of, say, La Primavera by Paganini at the New York Metropolitan Opera.
Recreational activities
If you are in search of recreational activities as a way of fun and/or exercise in Chengdu, the options are limitless, and range from golf (try the Luxe Hills Golf and Country Club or the Sichuan International Golf Club), boating (pedal boating on the adjacent lake), bicycling (you can rent a city bike to get around town, or mountain bikes for trips to the countryside), trekking (trekking tours are arranged by the major hotels – or check with your travel agent or the local tourist kiosk), horseback riding, ice skating in winter and kite flying in summer, and there are fitness centers cropping up everywhere in the city, as the Chinese are becoming more and more image-conscious. And, of course, you can keep fit the Chinese way by spending an hour or so each day learning martial arts.
If tennis, badminton or basketball is your thing – and provided that you have players enough to get a game off the ground – then try Chengdu Sports Center at 11 Renmin Middle Road – they are open from 8:00 AM to 10:00 PM.

But if you are looking for a bit of nighttime fun and exercise, then either billiards or bowling is probably your ticket. Every major hotel has one or more billiard tables, and either billiard or pool tables can be found in expat bars such as the Shamrock Bar and Dave's Oasis. There are a number of American-standard (AMF) bowling centers in Chengdu, and the number is increasing as the Chinese people discover the fun of the sport and the opportunity for active social interaction it offers. Below is a pretty exhaustive list of bowling halls in Chengdu.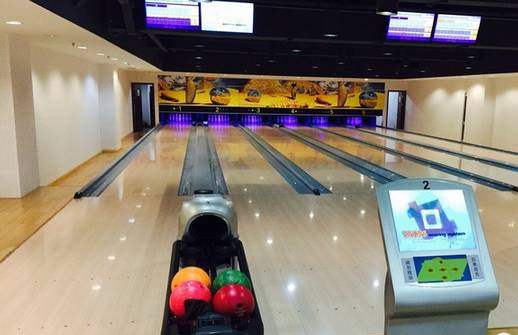 California Bowling Center
123 Shawan Road
Opening hours: 09:00 – 01:00
Chengdu Bowling Hall (part of the Chengdu Minzu National Hotel)
No. 78, Yongling Road (said to be an upmarket haunt that also incorporates a fitness center)
Olympics Bowling
2F, Lidu Mansion, Section 3, Hongxing Lu
Opening hours: 09:30 – 24:00
Wandan Bowling Center
2 Wandan Cang Road
Opening hours: 09:00 – 01:00
Bars & Night Clubs
Chengdu enjoys a lively nightlife entertainment scene that offers something for just about everyone, from a secluded bar where you can enjoy a cultured conversation with your girlfriend or shoot a game of pool or snooker with a buddy, to karaoke bars where you can get tipsy and make a fool of yourself with no regrets the day after, to singles bars where the personnel pass messages back and forth between interested parties, to night clubs with live music ranging from Chinese pop to techno to hardcore Cantonese-Chinese rock.
In fact, Chengdu by night is becoming one of China's hottest cities for partygoers, partly – if not mainly – it is said, because Chengdu is at least an arm's length from the watchful eye of Beijing. Increasing numbers of Chinese people can afford a life in the fast lane, and in Chengdu they seem to be taking to it like ducks to water. According to a 2006 article published in the Los Angeles Times, Chengdu is "China's party city". Below is a representative list of night spots worth checking out (you'll have to find the addresses yourself).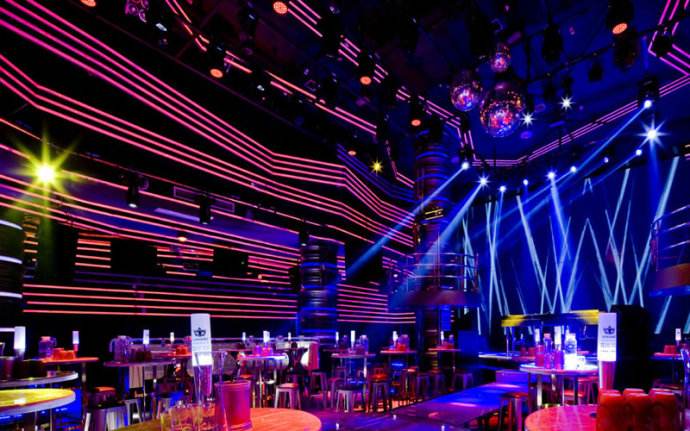 Shamrock Bar – a popular American expat hangout with pool tables, rarely with a live band, but usually with a solo guitarist playing American folk-rock ballads on the weekends
Dave's Oasis – a popular British expat bar (Dave is a big fan of Chengdu opera)
Pub Street – not a bar's name, but a street full of pubs, located near the river, no pool or billiard tables, no live music, but a cool place to have a chat over a beer, or to get plastered and then take a swim in the nearby river
Dan Xing Dao ("One-Way Street") – a singles-only bar (hence the curious name) with a communications system that helps you to overcome your shyness: the personnel will pass on messages and telephone numbers; every table has pencils and noteblocks for this express purpose
Lotus Palace – a night club occupying two floors, with a bar and live music on the first floor, a second floor bar-restaurant for drinking, dining (they serve French style cuisine) and chatting, and an outdoor biergarten, weather permitting
Hongse Niandai ("Red Age") Club – a night club with restaurant, bar and disco hall, with raucous music, fashion shows and DJ competitions
MGM – Chengdu's de rigeur night club for serious partygoers. It has several sections, one with a live pop/ rock band, another playing techno music, one with light Chinese pop music, and one with hardcore Chinese-Cantonese rock, all of which have dance floors as well as table-and-chair arrangements
If you are into karaoke, Kakadu Club & Disco and the Meigaomei International Recreational Club, as well as the bars of most of the city's main hotels can satisfy your needs.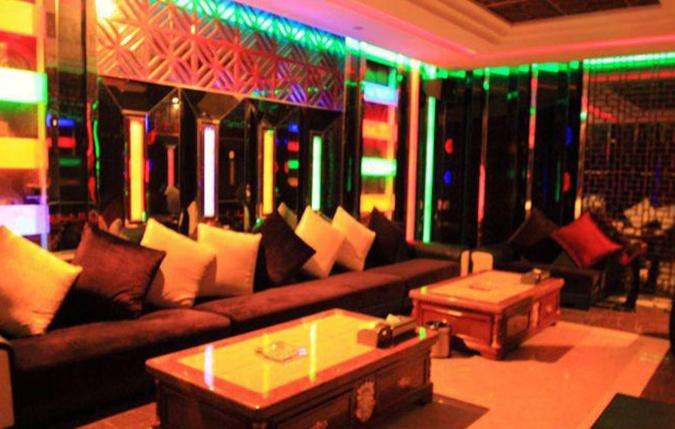 In addition, there is a special street – Jinli Street – that offers a little bit of everything in the way of nightlife, from tea houses to small, nook & cranny eateries to special crafts boutiques to ordinary bars and pubs, and Jinli Street also has a number of bed & breakfast establishments. The architecture and street lighting of Jinli Street is quaint – and most picturesque at dusk, it is said – adding to the charm of this unusual street.
Tea Houses and Coffee Shops
Tea houses are not as popular as they used to be (modern coffee shops are crowding them out), though they can still be interesting places to see Sichuan Opera, and, naturally, they are great places to hang out if you happen to be a dyed-in-the-wool lover of tea. If life in the relaxed lane is what pleases you, then a tea house is the place to go. The tea houses of Chengdu serve all the major teas, including the famous Chinese teas such as jasmine, maofeng and zhuyeqing. Below is a short list of tea houses in Chengdu.
Yuelai Tea House
Huaxingzheng Street (free opera performances Tuesdays & Saturdays, 14:00 – 16:00)
Heming Tea House
Renmin Park
Dabei Temple Tea House (it also serves as an impromptu gallery for art works and antiques – your chance to pick up a work from a coming Chinese master?)
Wenshu Monastery Tea House
Middle Renmin Road (located inside Wenshu Monastery, it is one of the least expensive tea houses in Chengdu – remember to take in the monastery if you pay a visit!)
Coffee shops are becoming increasingly popular in Chengdu, not surprising since China's – and Chengdu's – "nouveau riche" are increasingly emulating a Western lifestyle. There are a handful of Starbucks in Chengdu, and as many coffee shops of similar foreign brands. Chengdu also has its own non-chainstore coffee shop called The Coffee Beanery, located on the second floor of the Gaobang Department Store on Chunxi Road.