Qinghai Lake Erlang Sword Scenic Area is located on the south side of Qinghai Lake and is also the main scenic area of Qinghai Lake. This scenic spot is built by enclosing an area on the south side of Qinghai Lake. There are shopping centers, restaurants, hotels, etc., all of which are unique Tibetan-style buildings. In addition, other entertainment items such speedboats, sand motorcycles, and racetracks are also set up.
The scenic spot is mainly divided into two areas, one is a large square and street next to the road, and many buildings and cruise ship docks are also located here. The other is a narrow-pointed peninsula that is more than ten kilometers deep into the lake, and it is shaped like a sword. This is also the origin of the name of this scenic spot. There are some entertainment projects on the peninsula. To play the Qinghai Lake Erlang Sword Scenic Area, it is generally to walk from the gate to visit the squares and streets by the lake, visit the lake and Tibetan buildings, etc., and then take a cruise to play the entertainment projects in the peninsula area. It takes about 2-4 hours to visit the entire scenic area.
There are two Tibetan-style small streets at the square of the scenic area. There are some Tibetan prayer flags and sculptures around the streets and squares. On both sides of the streets, there are souvenir shops, restaurants, hotels, folk museums, herbariums, and Tibetan tribes. You can visit the exhibition halls and buildings full of Tibetan characteristics. When you walk to the lake from the square, you can see the vast blue Qinghai Lake right in front of you, and a wooden plank road has been built along the lake.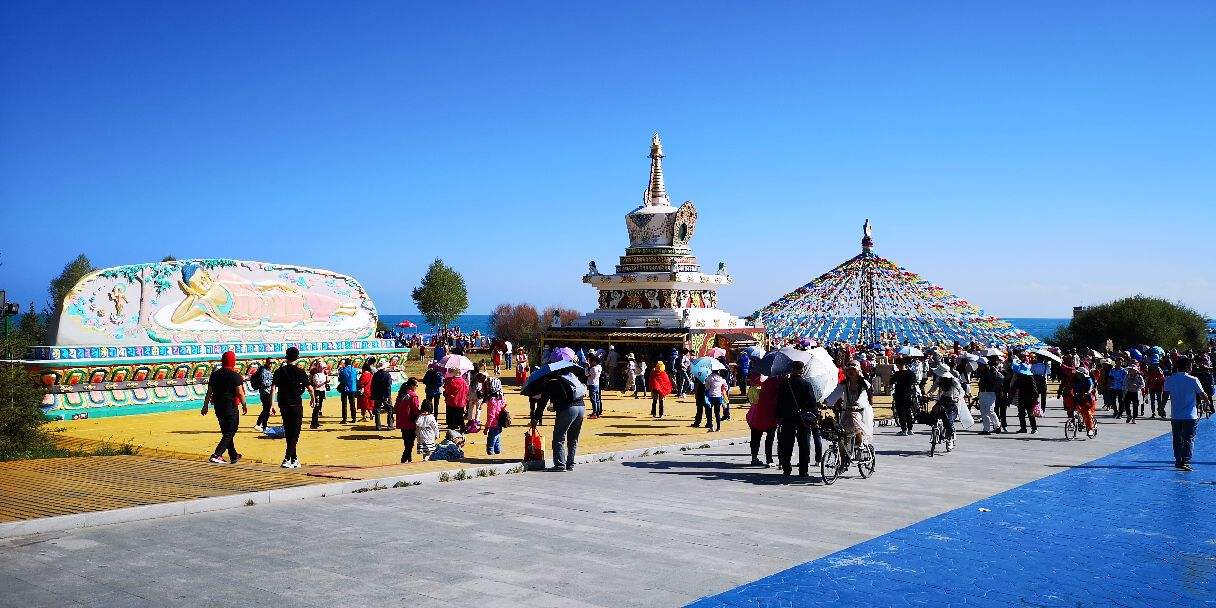 At the west end of the plank road, it is the cruise ship's pier. Taking a cruise on the lake is the focus of Qinghai Lake Erlang Sword Scenic Area. There are two types of cruise ships. One is a medium-sized high-speed cruise ship with about 90 people. You can cruise on the lake for about 20 minutes, and then transport to the end of Qinghai Lake Erlang Sword Scenic Area. The other is a large cruise ship, which can cruise the lake for about 50 minutes and then return to the square pier. The ship has cafes, restaurants, VIP rooms, etc., which is more gorgeous and leisure.